Meet The

Think Tank

Growing Gardens knows through experience that it takes diverse ideas, perspectives, and backgrounds to yield truly impactful results. We are proud to present the Think Tank members who so beautifully represent the people of Oregon and serve as trusted advisors for our work.

Simbiat Yusuff-Mueller
THINK TANK CO-DIRECTOR

Simbiat joins the Think Tank from Forth where she holds the title of Events Manager. In addition to managing the webinar program and workshops, Simbiat also assists with annual the Roadmap Conference. She holds a Bachelor's degree in Strategic Communications with a focus in Public Relations from Washington State University.

joemil santos
THINK TANK CO-DIRECTOR

Joemil r. Santos is the Food Equity Program Supervisor at New Seasons Market. He is committed to both being of service to our community and leading with racial equity. Whether he is cooking for friends and family or bridging the gaps between organizations and people, Joemil joins communities through both food and action.
Rick Kwan
THINK TANK TREASURER
Rick (he/him) is a retirement actuary at WTW. Having learned from the example set by his grandmother, he is committed to fostering a sense of community through shared food, culture, and dialogue. In his free time, he can be found enjoying the great outdoors with his canine hiking companion, Beckett.
Ben Coleman-Fire
THINK TANK MEMBER
Ben grew up in a farming town in Idaho where he raised sheep and helped out with his grandparent's orchard and sprawling garden. He is an attorney specializing in bankruptcy law and has worked in both government and private practice. Ben is now working the best, hardest job of his life: stay-at-home dad to his three kids. Ben enjoys gardening, testing out new methods of home food preservation, fly fishing, and exploring the woods with his wife and kids. 
Eca- Etabo Wasongolo
THINK TANK MEMBER
Wasongolo likes to spend his time in discussion with community members, listening to people's stories, building trust among people to work for positive change in the community, doing outreach to bring solutions to unmet needs, and acting as a bridge and cultural mediator. Wasongolo's dream is to always fight social inequality and poverty, to build community food security, and to work concretely for peace and human development. Wasongolo brings more than 15 years of experience in nonprofit organizations and community evaluation projects.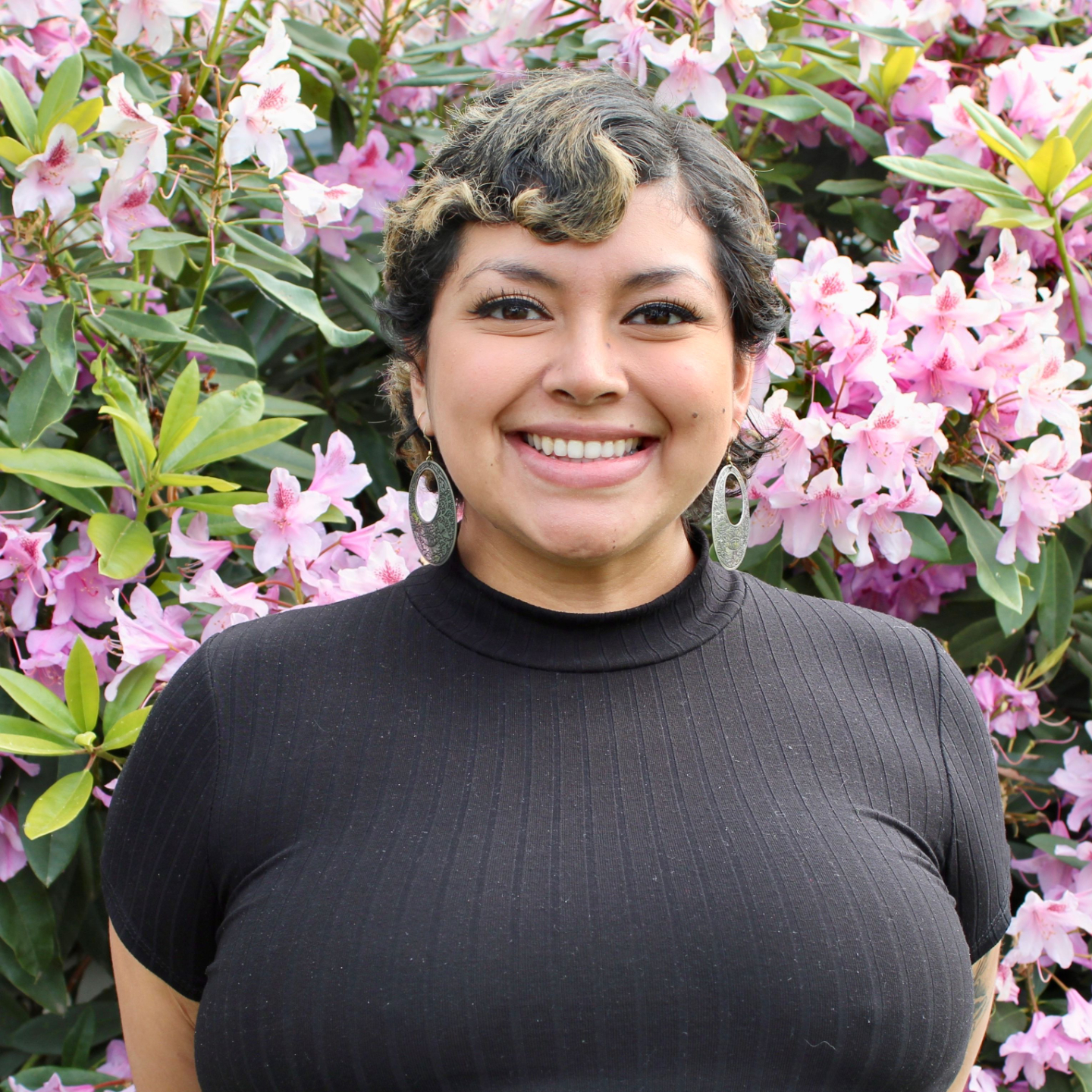 Yoli Flores
THINK TANK MEMBER
Yoli Flores started her journey with Growing Gardens in 2016 as an AmeriCorps volunteer in the Home Gardens program. She loves Growing Gardens for their trailblazing Lettuce Grow and Youth Grow programs. Professionally, she works at the Knight Cancer Research Institute in Research Administration ensuring education and training and DEI for the cancer center. She loves cooking, dancing, gardening, camping, and spending time with her loved ones. Her favorite fruit is Guayabas, favorite city is Mexico City, and dream dog is chocolate Pomeranian. 
Shireen Duke
THINK TANK MEMBER
Shireen is a 5th generation Oregonian who loves to get outside to grow collard greens and fresh tomatoes. She is also an accomplished dancer (Line Dancing and Chicago Steppin). Shireen has been involved with Growing Gardens since 2013. She started as a Home Gardens Program participant, then a Garden Mentor, and now serves on the Board of Directors.
Thuy Pham
THINK TANK MEMBER
Her fondest memories from her early childhood are in her backyard when she would pick all the ripe vegetables from the garden beds.She grew cucumbers, sugar snap peas, tomatoes, herbs and so much more.
Kelso Brasunas
THINK TANK MEMBER
Kelso is currently a graduate student studying domestic policy, with a focus on inclusive urban policy. Before that, she worked for FoodCorps for 8 years, both on the Finance team and as an AmeriCorps service member in Arkansas, connecting kids to food in schools. She is also the Finance Chair for the Oregon Farm to School and School Garden Network. She is happiest in the PNW mountains, swimming in alpine lakes and hiking along ridgelines.
Cozette Tran-Caffee 
THINK TANK MEMBER
Bio coming soon!
Justin Rossman
THINK TANK MEMBER
Justin is the Community Engagement Program Supervisor at New Seasons Market. He's a N.E. Portland native and a Benson Tech Alumni, holding a passion for service to the city. His career and personal path constantly have him on a pursuit of food justice for all, dreaming of the day that all are welcome a seat at the table. He loves spending free time with his son Malachi as they paddle-board, roller coaster, eat, and travel through this world together.
Jane Hashimawari
THINK TANK MEMBER
Jane Hashimawari works as a chef in Portland and has worked and led in many kitchens throughout the city for well over a decade. She is currently the youth cooking instructor at Luscher Farm and runs her own pop-up called Ippai PDX which focuses on Japanese comfort food while highlighting the seasonal bounties of the Pacific Northwest. Jane is passionate about food justice and providing food security through mutual aid and culinary education. She currently lives in Woodstock and spends her free time chasing squirrels out of her garden beds.
Darren Golden
THINK TANK MEMBER
Hey, my name is Darren. I do the work that I do because it keeps me up at night, and not in a bad way. In a way that is constantly searching for solutions in our marginalized communities. In a way that is always working to build up our communities to be safer, more resilient and loving. I want all humans to thrive, and that starts by giving aid, guidance and resources to those of us who need it most. I enjoy working on strategic projects for foundations and nonprofits—focusing on upstream solutions while also ensuring current needs are being addressed.
I have stepped into my 4th year of lobbying in the Oregon Legislature, with an emphasis on Criminal Justice, Police Accountability, Equitable Access to Policy, and Environmental Policy. I approach all of these arenas with a community-first mindset, if the policies harm our communities, they just aren't worth it. Running campaigns comes naturally for me. As the middle child of seven I am used to the orchestration of chaos while moving towards a shared goal. There are many ways to win and I appreciate the opportunity to empower my teammates, colleagues and subordinates to lead.
My experiences in the Air Force and Higher Education have allowed me to hone an attention to detail necessary when approaching systems change. They have also taught me patience—a virtue. I am continually learning the true value of teamwork, to lead is to follow. I believe in leading compassionately, and not just in times of peace and stability.
Lastly, I think we all need to get outdoors more. We are all party to a cycle that wouldn't notice we went a couple months without hugging a tree or touching dirt. As an Oregonian I feel it is my duty to tell you to go hug more trees! Thanks for making it this far, it's been real!
P.S. ask me what I'm reading.
Maria Paz Herrera
THINK TANK MEMBER
Born in Colombia and then living in Mexico, Maria (she/her) discovered her passion for sustainability when she studied architecture in college in Mexico City. Her green thumb and environmental interests motivated her to move to Portland to pursue a master's degree in Leadership for Sustainability Education, which she now holds. For the last 6 years Maria Paz has been working at Latino Network. Currently, she is the SUN site manager at Rigler Elementary, where she coordinates all after school activities, food programs and connects families to wrap around services. When she isn't doing amazing things for her community, Maria likes to hike and spend time with friends.
*Hablo Español*
(I speak Spanish)
Morgan Rider
THINK TANK MEMBER
Morgan Rider (she/her) grew up a free-range kid in Colorado. She knew from a young age that she'd dedicate her life and career to environmental conservation and protection. After receiving a B.S. in Environmental Engineering from Cornell University, she spent her career working with national and international organizations on regulatory compliance and sustainability initiatives. For the past 15 years, she has closely collaborated with government agencies on policy development, as well as nonprofit organizations dedicated to environmental conservation and justice, to effectively communicate their narratives and maximize their impact within the communities they serve. As the co-founder of Thriving Design, an innovative garden supply manufacturing company, Morgan combines her love for nature and her expertise to create sustainable and eco-friendly products. When she's not working, Morgan is doing yardwork (not gardening), skiing, hiking, and hosting dinner parties.
In Memoriam
MISSY
Missy was a tremendous Think Tank member who was always ready to be out with the Home Garden team, building gardens and getting her hands dirty. She was our Think Tank Secretary for nearly 4 years and brought so much magic to our organization. We will continue to honor and remember her in our daily work.
Join The Think Tank

We're always on the lookout for passionate, motivated, and hard-working community leaders to join our Think Tank. Visit our contact page to get in touch!

Get In Touch